The Growth Hacker's Guide to Reddit
---
Reddit is the championed homepage of the internet. Over 50M users spend an average of 34 minutes a day across 140,000 permanent "subreddits" or forums. Yet, social media marketing strategies usually ignore Reddit altogether. Start engaging with your customers on Reddit, and your posts could be seen by thousands in your niche.
If you're completely new to Reddit, check out this primer on "Reddiquette" and this LifeHacker article. on the basics of Reddit (like upvoting and joining subreddits)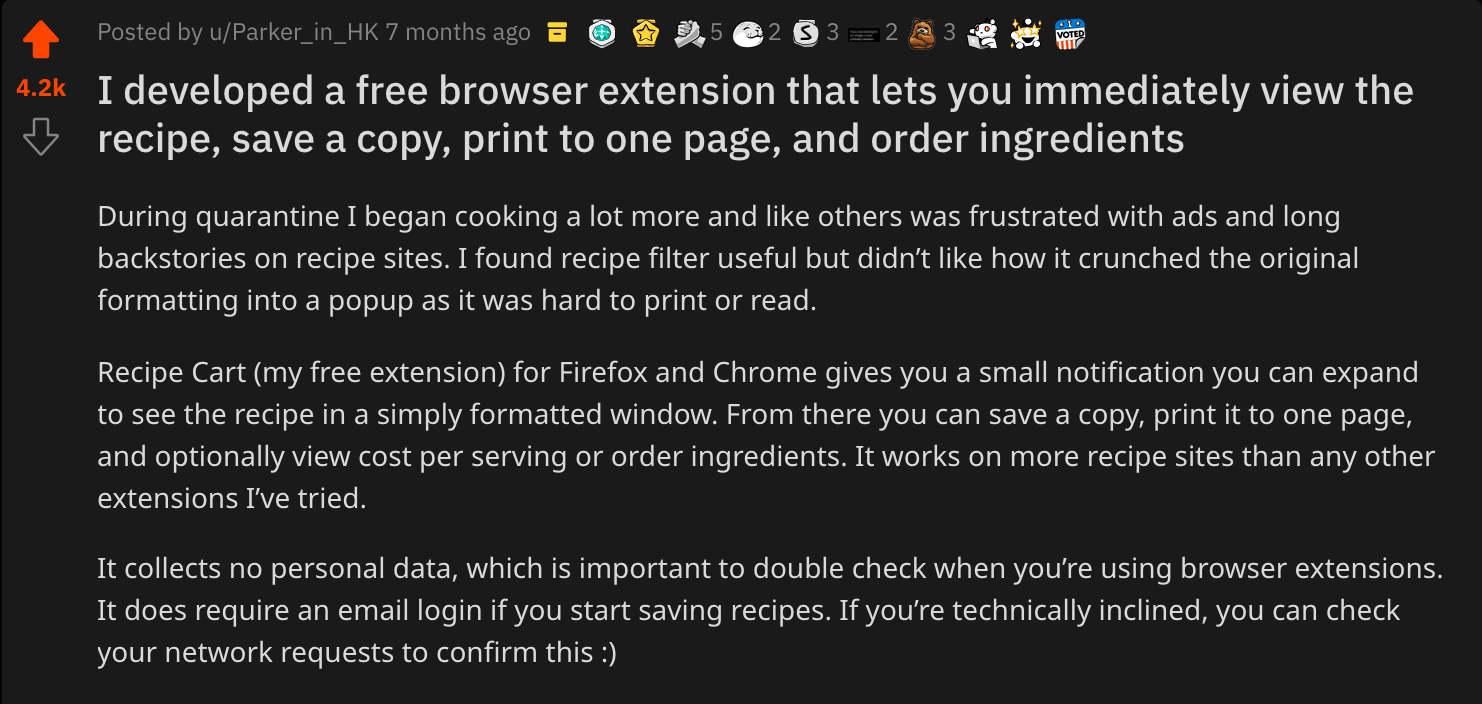 Are people already talking about your brand and product on Reddit? This will guide your content strategy.
First you should get a sense of what redditors are already saying about your brand or product, and from which subreddits. Start with a simple search for your brand or product. Add your website URL, your competitors, product categories, and related keywords to your business. Once you get a sense of what people are talking about, expand your search to include common Reply Guy will give you a real-time feed and daily email digest of your keyword mentions across Reddit.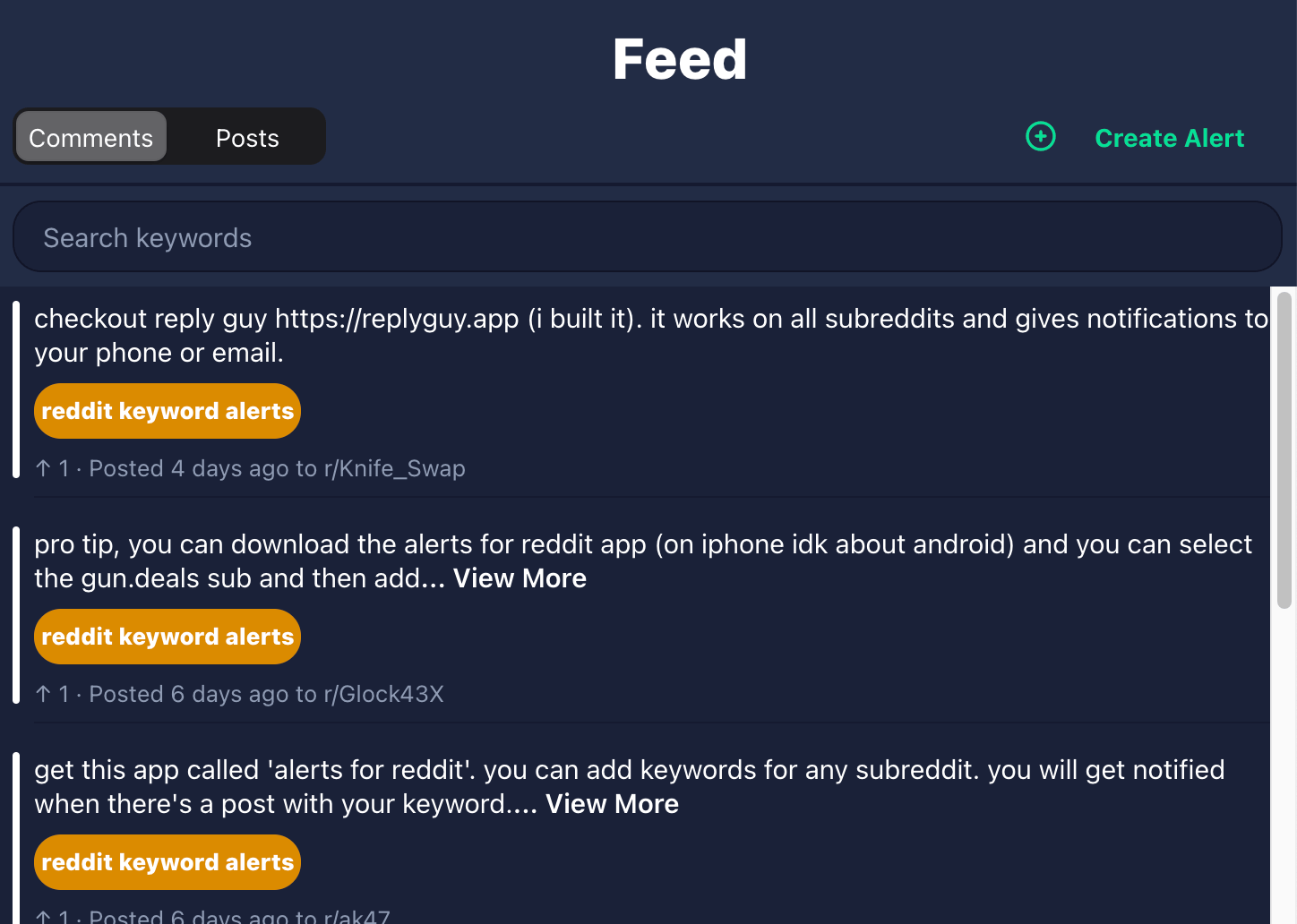 Check out our guide to brainstorming and setting keywords to monitor on Reddit with ReplyGuy.
Taking inventory of relevant posts and comments will help you shape your content strategy. Collect samples of posts directly mentioning your brand, your competitors, complimentary products, and all that will be helpful in your product promotion mix. Try to keep a spreadsheet or note about your product category on Reddit to keep track of the posts. Discover when and where people are mentioning your product.? What's helpful or harmful about what users are saying? What are the biggest opportunities for my business? Learn from the feedback from just this initial research phase alone. This stage will help you find the top subreddits and communities on Reddit that will be most valuable to you.
Join subreddits
Let's get started by joining some subreddits. Search for some of your top interests. Sort the subreddit by top posts. Join some of the most popular subreddits from your keyword analysis. Start with 1-5 that looked like they had most relevant content to your business, and potential high-intent customers. If you're starting a new business or your brand is not well known, you can use the product category specific keywords you found earlier. There is also this helpful and free subreddit finder to find online communities relevant to your brand.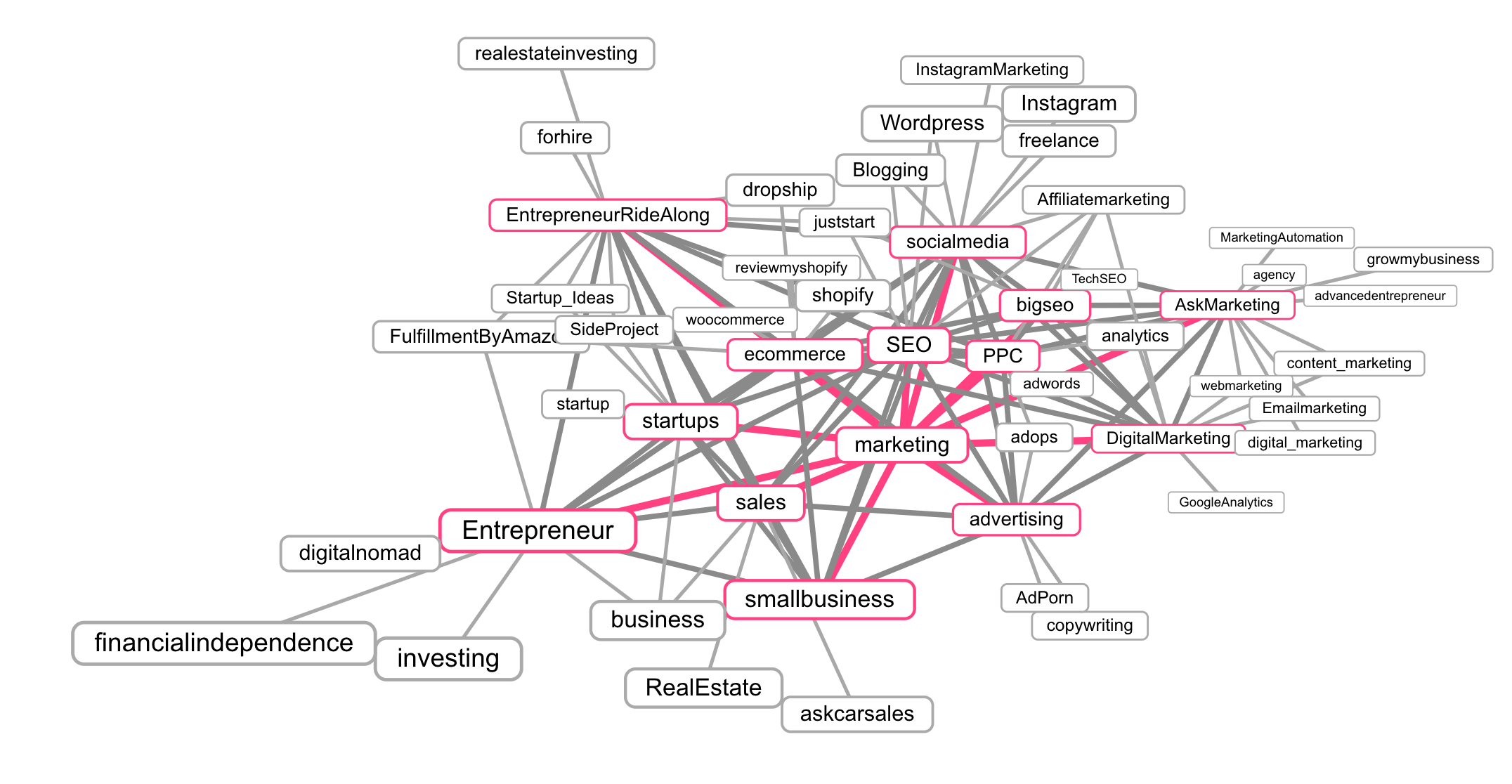 Look for content that is doing well
Sort the subreddit by the top posts. Take note of attention grabbing titles, media with a lot of upvotes, and posts that always get a lot of comments. Try to break down the best posts by a couple themes. Usually some combination of people looking for advice, asking questions, sharing a unique perspective, or something just funny. You can also filter the subreddit by daily, weekly, and monthly content. This will help you figure out what people are talking about day-to-day as well as see some of the more thoughtful posts that rise to the top. Come up with post ideas that always work, as well as occasional homerun ideas.

If you know and understand the content that has historically done well, you can copy some ideas, improve the relevancy to your business, and personalize the message to make it new to the subreddit. Don't forget, try different post types, go for images and media as well.
"I developed a free browser extension that lets you immediately view the recipe, save a copy, print to one page, and order ingredients"- 4.2k upvote Reddit Post I made to promote Recipe Cart in /r/cooking subreddit, resulting in 500+ downloads
Participate in the community
Once you've found subreddits that relate to your niche, it's time to join the community. Comment and upvote on some interesting posts. Look for questions, comment on posts. Talk about things you know, ask questions about things you don't. Many people joining subreddits are looking for help in some way. Offer good advice in the comments, and contribute to the conversation. If you want people to trust your marketing, you need to be a reliable source of information in the first place.
Take notice of what common pain-points in the community members have. Do your research for each subreddit: what are the common questions people ask? What are the problems people need help with?
It's all about valuable content on reddit, whether it is advice to solve a problem or a comment that will make someone laugh. Remember, the basic premise of the site is that good content is upvoted so more people can find the content, and react to it. Start by diving into the comments of some popular posts, and ask questions to active members of the subreddit. If you want to market your product or brand on Reddit, you need to keep in mind that subreddits are communities. It is a good idea to begin to be an active member on the subreddit well before you make posts directly promoting your brand.
It's probably a good idea to spend 10 or 15 minutes a day for at least a couple weeks engaging with the community. Pay attention to the subreddit rules. Do not just post your content and links, the community and mods will hate it.
By far the most important lesson here is to be genuine about joining the community - have fun, keep your posts and comments entertaining and relevant to the community, and don't spam! If this seems daunting or too hard, you could be in the wrong subreddits to market your business.
Start writing
Now that you have done quite a bit of research it is time to start writing content. You know which subreddits you want to target, you know what people are saying about your brand, your competitors, and related product categories, you know of different communities and their unique problems. Begin to write some content that addresses these unique needs. Reddit marketing strategies cannot be copy and pasted from one brand to another.
Draw from personal experience. You don't need to necessarily write about why you are in the subreddit, but more so how. Let people follow your journey. Tell a unique story about
Submit your content
What do you do after you hit submit? You can't just sit back and hope it does well. The best comments make the best posts worth reading. It's all about community and making the subreddit a rewarding place to visit.
Your mindset should be about giving a lot more quality content, then what you're taking in.
Transparency about who you are and what you're doing
Redditors hate marketing. Don't just spam. If you're promoting your content in a community, do it in an open way and answer questions truthfully. Take the perspective that you're an expert in your niche, you're posting content because you're an expert, and you have a business because of your expertise. Remember, keep good reddiquette.
Don't always copy and paste your messages. You've got to personalize messages for each post and comment. Figure out what people are already saying about your brand, product, or category. Do a little research about the users on the forums, it's easy enough to click their profile to see what subreddits they are active on.
If people are saying good things about your brand, include it in your content. Understand what people want and give it back to them. You have an opportunity to learn more if you embrace the community, and improve your product with feedback from Redditors.