How to use Reply Guy: Setup keyword alerts and interact with your audience on Reddit
---
If you've found Reddit content on Google in the past, you know there have been times you missed chances to promote your business on Reddit with a timely post or comment.But the catch is, you need to be able to reply to Redditors talking about your product in real-time or at least while the post is still active.
Our users love Reply Guy because they organically find new customers and capitalize on viral moments to promote your business. With Reply Guy you can surface relevant content from all of Reddit and build steady traffic to your site, increasing conversions for your business. Reply Guy is a social media listening app for Reddit. It is the only app where you can search for and save custom keywords and URLs to continuously monitor all of Reddit in real time.
"It's like having Google Alerts for Reddit, but without waiting for Google to index new posts or comments." - Jon S, RollKit.net
Alerts for reddit are an incredibly powerful social media monitoring tool. Here's a guide to get the most out of your keywords. You can receive alerts any time your product, brand, target market or whatever phrase is most important to you is mentioned on Reddit. Reply Guy is the only app that can continuously monitor all of Reddit - instead of just a single subreddit - and deliver posts for you to quickly read and reply to Redditors mentioning your keywords in real-time.
How can I set up Saved Alerts?
Reply Guy is designed to find relevant Posts & Comments on Reddit for you. Once set up, you do not need to spend time hunting for conversation about your brand & product - with the Pro Plan, Reply Guy will push notifications to you when there is new action on Reddit by default.
Step 1: Brainstorm topics
and ideas you want to monitor on Reddit. Break down your interests into keywords and URLs you want to monitor on Reddit. If you need help coming up with keywords continue reading our guide.
Step 2: Tap the Create Alert button in your Feed or in the My Alerts tab

Enter a keyword or phrase you wish to monitor. Get started by typing your keywords into the search box at the top of the app. Check the preview of your search You will see a preview of your Alert in the box below. These are Comments and Posts that match your keywords you entered in the search box.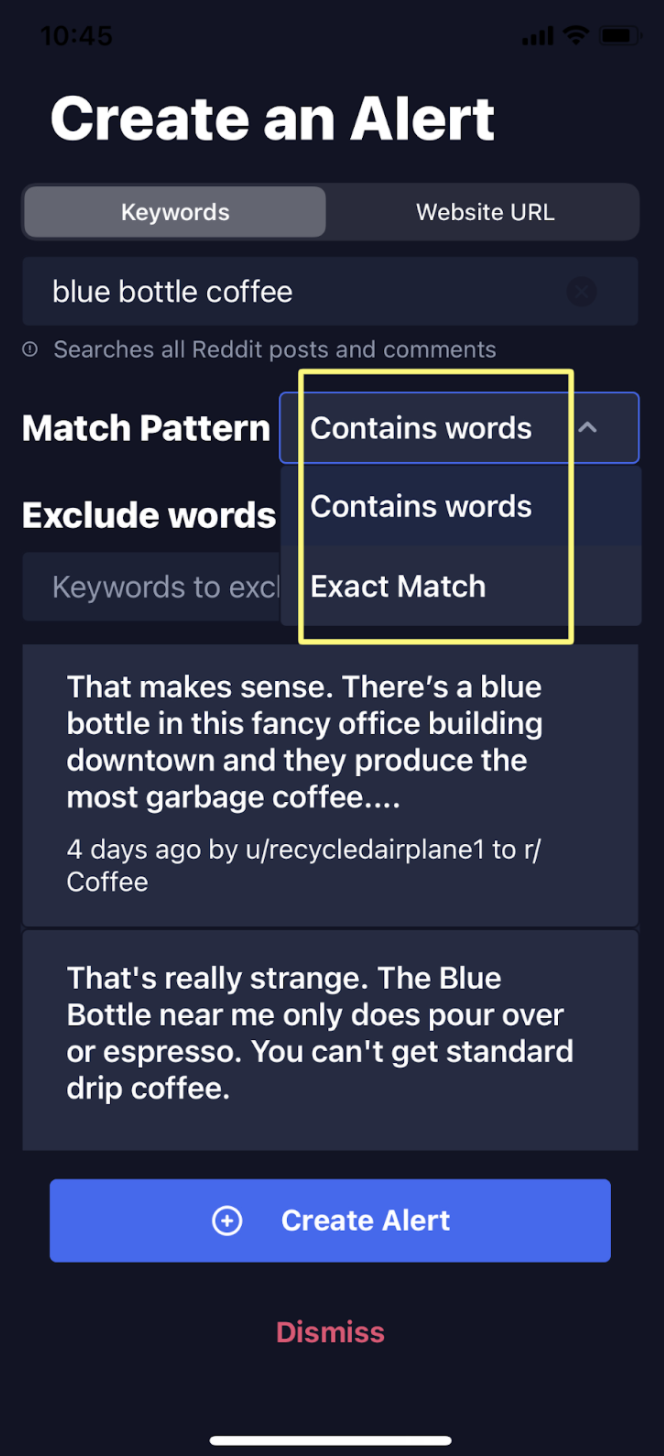 Try ReplyGuy for free on the web or download our iOS app.
Step 3: Save your alert.
Hit the Create Alert button, and you are set! Pro Tip: Repeat. With the Pro Plan you can set up unlimited alerts with Reply Guy.
Step 4: Start replying to Redditors
Check your updated feed. You can switch the view to either Comments or Posts. Simply hit the reply button. It's best to have the reddit app on your phone. Make sure you're signed into the right account on your app.
How to come up with keywords for social media monitoring?
Have you used a keyword research tool before? If not, we have some ideas to brainstorm keywords to monitor your brand online. Follow these tips and your Reply Guy feed will be filled with just the posts and comments on Reddit relevant to your business, and save you the time from searching subreddits and manually monitoring Reddit.
Here are some ideas if you are new to social media keyword tracking:
Track your company's name on Reddit. It's an easy way to get started, find out how often and why people are mentioning your company on Reddit.
Mentions of important names to your company. Brand names, product names, slogans, website URLs, hashtags, and handles.
Follow your competitors on Reddit: Take note of how people talk about your competitors compared to your business.
Monitor URLs on reddit, and Build backlinks: When someone is mentioning your brand or product, you can use the opportunity to drop links to your site to build backlinks.
Look for third-party content in your niche: Find blogs, newsletters, or any other content business for you to guest post or advertise with by including keywords related to your niche or industry.
More social media monitoring and keyword search Pro Tips:
Include shorthand and misspellings of your brand keywords

Use exact matches if you are using common keywords

If you are on the Pro Plan you can have unlimited alerts so be sure to include common conversational phrases around your brand and your competitors.

Try adding keywords like Recommend to your phrases to dive deeper into conversations, like "recommend," "suggestions," "best product for," "help," "improve," "explain," "favorite."
Reply Guy's Pro Plan will help you get started with social media monitoring. At the low subscription cost, all you need is to find and convert one more customer on Reddit each month to make up the cost.